romain
ShareFile is a filesharing solution powered by Citrix. A real alternative to Dropbox, Google Drive or OneDrive, the solution can be hosted either in the KissLabs datacenter in Switzerland or directly on premises by integrating perfectly with existing infrastructures.
You have various questions about files/documents sharing :
"How am I going to send this large document knowing that my mailbox allows me sending only a few GB of data? "
"I am in a secure environment and transact confidential data, how do I ensure that the recipient of the sent email is the right one and that it has received my document? "
"How can I respond to internal processes of data access, enforcing me the access number control and the expiry date of sent documents ?
Among the advantages of the ShareFile plugin for Outlook :
Reliability : You no longer take the risk that your bulky attachment will not reach its recipient. In addition, you can send one or more file (s) / document (s).
Security : You decide how your attachment is sent, allowing you to comply with your internal data policy.
Compatibility : Although this article focuses on Outlook, the ShareFile plugin is compatible with other email platform such as Gmail or Mac.
Discover below how the ShareFile plugin for Outlook is the answer to your questions.
The ShareFile plugin for Outlook is characterized by the addition of 2 buttons, "Attach files" and "Request files" under the menu bar when writing a new message. Our example focuses on file attachment, a second upcoming article will expand the file request.
By choosing "Custom Settings", you can configure options for your upload as being alerted by a notification when a file is uploaded, making the recipient authenticate to access a file…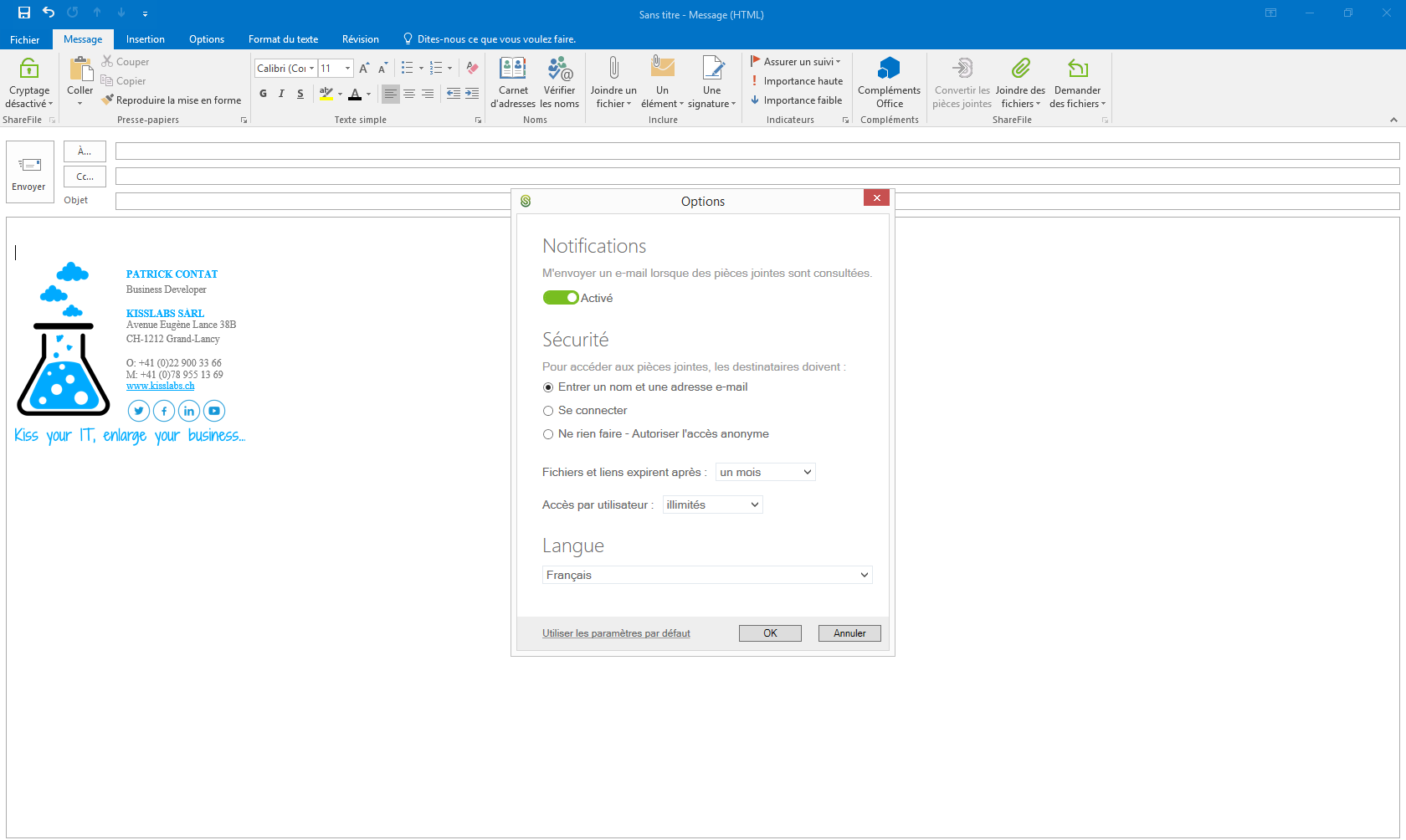 …you access the tree and select the file you would like to put in attachment of your message…
… you get a link allowing your recipient to download the file.
Need some advice, a demo? please ask us !